Spring travels
Posted by Lise McClendon in Uncategorized, writing on Apr 23, 2012
As soon as the weather clears up (even briefly) I get the itch to travel. Not that the itch ever goes away entirely, but something about springtime, sunshine, and warm weather makes me want to hit the road. This spring I added a new car to the mix, making
it all the more enjoyable on the highway.
I have to visit my kids on the west coast in the springtime, and my mom. So off we went to LA to see our older son, his wife, and adorable baby. The weather in LA was almost the same as in Montana (60s), but we persevered thanks to a divine welcome lunch of grilled shrimp, avocado, and papaya at the restaurant next door to the hotel, The Ivy at the Shore. Besides the usual grinning baby photos I took this one of a barking baby elephant seal on the beach in Santa Monica. I call this one "Talk to the hand."
On another beach, thousands of miles north, another barking animal. Bentley Montana the blue heeler is learning to behave at the dog park and the beach and all over Seattle. Here he is with my younger son. Having a puppy is a lot of work, responsibility, and training time but Bentley is a smartie and lots of fun. Seattlites were a little giddy because of two sunny days together — on a weekend! Look at the blue sky.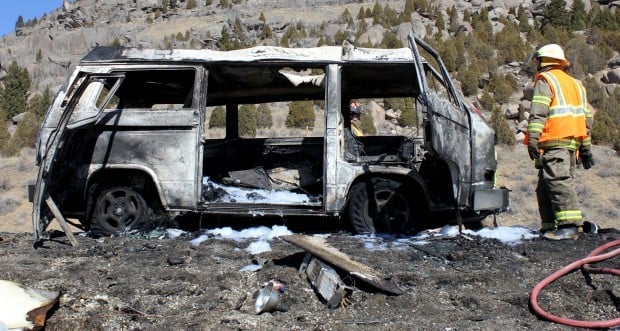 So I got a new car. I was itching for a new one after ten years in the old (but still very serviceable ) one but fate conspired to make it imperative. This (fire/explosion) happened to my husband's beloved VW Vanagon Syncro Westfalia about a month ago, on the side of I-90 near Butte. He'd just had a new exhaust system and muffler installed. We're pretty bummed about the Vanagon which we bought new in 1990 (from good old Teton Motors in Jackson, WY) and had tons of family adventures in before it morphed into a winter project vehicle/ski locker. My husband however is happy to find a new hobby! Sort of confirmed that a person should always have comprehensive auto insurance. Ka-boom.
Home again and working on books. Still polishing up PLAN X, the Shakespearean thriller, although travel and taxes have taken their toll on my time (and my desk- ack!) Working on putting out a novel this summer now titled "All the Pretty Dreams," which is my take on Jane Austen's "Pride and Prejudice." More romancey than mystery, more young adult than mature adult. So much for "branding." I sort of hate that word in publishing and writing anyway, after the first time I heard an author say he was continuing his series because that was "the product" he had to sell. I guess that's business.